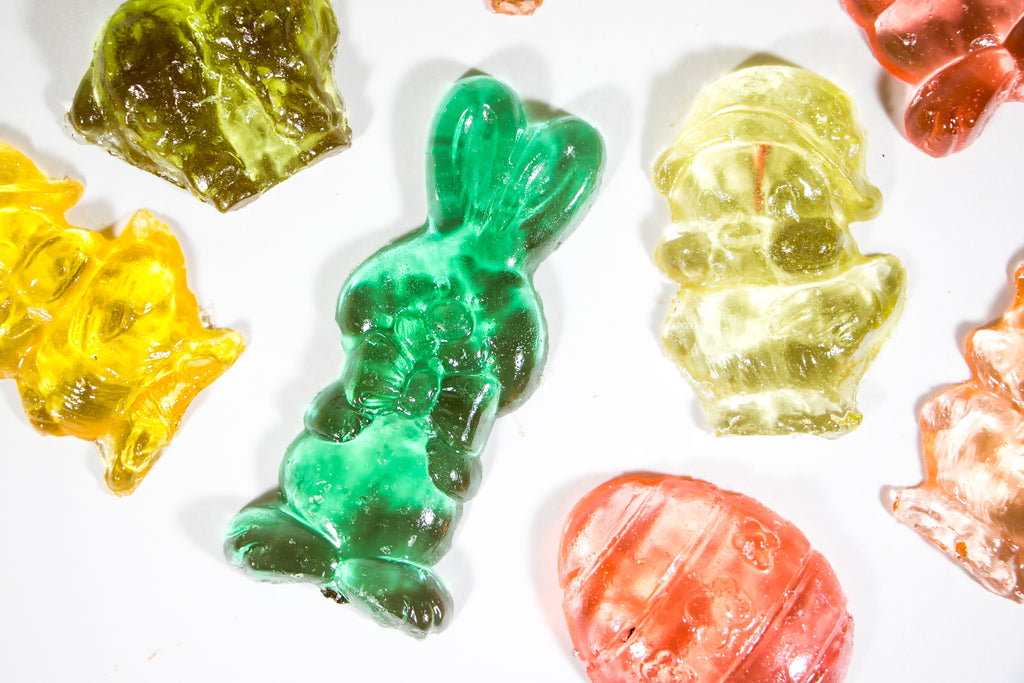 Our sweet treat options will help you send a smile—and some nostalgia—right to a loved one's front door or Easter basket.
April is here—and Easter will be arriving right behind it. This year probably just feels a little…different. With everything going on around us, filling up Easter baskets might seem impossible. But around here, we think that while we're working on social distancing and shopping carefully, classic traditions that take us back to normalcy for a moment are more important than ever.
Speaking of classic traditions, when you think back, what kinds of sweet Easter flavors defined your childhood? What favorite items filled your Easter basket to help celebrate the holiday? Maybe it was a creamy chocolate bunny, some bright and colorful jellybeans, or a perfectly tasty, fun-shaped clear toy lollipop? Maybe it was rich, indulgent fudge or chocolate peanut butter Easter eggs?
At E&A Candies, our very favorite thing is delving into that nostalgia and seeing smiles on our customer's faces when they taste something we've made. Although we can't see that in person quite as often right now, we can't think of a better time to continue helping to spread the cheer that only candy can bring.
If Easter is one of your favorite holidays, and you have some baskets to fill, we have several options for you.
HOW TO GET E&A EASTER CANDY:
Visit our storefront – Our store, located at 3614 Old Philadelphia Pike #9654, Gordonville, PA 17529, will be open Monday through Saturday from 10-4pm for candy pick-ups (starting April 3). Although our hours differ a bit right now, we're grateful to have been able to remain open as an essential business. If you're feeling a bit stir-crazy and hoping to get out of the house to hand-select your Easter bundles in person, give our shop a visit. Just as when you're grocery shopping, we'll help you get what you need safely and quickly. 
Visit our Maryland stand – Our stand is located at Dutch Village Farmer's Market 5030 Brown Station Road, Upper Marlboro, MD 20772. Please check the market's website or facebook page for days and hours of operation. 
Shop online – Visit the 'ready to ship' section of your website here, browse all of the Easter favorites, pop them in your online shopping cart, and we'll ship them right to the doors of your loved ones. They are sure to be surprised and delighted! Of course, we can ship them right to you as well. To help better enable us to get candy treats to you by Easter, we encourage you to place your online orders by Sunday, April 5th.
 WHAT DO WE OFFER?
We have plenty of options (browse the photos here) —but a few Easter favorites that we have on-hand and ready to go to baskets everywhere are:
Home-made fudge, in various favorite flavors
Clear toy lollipops, from bunnies to ducks and even Easter eggs
Assorted chocolate lollipops, in fun Easter-themed shapes
Chocolate "deviled eggs"
Chocolate covered pretzels
Nut lovers assortment tin, filled with nutty goodness
Solid chocolate bunnies (of various sizes)
Chocolate covered rice krispy treats, swirled with Easter pastel colors
Chocolate crosses
Clear toy Easter collection (with no sticks)
E&A Easter candy kit—with all the favorites
Chocolate carrots, for the Easter bunny in your life
Chocolate lambs
Peanut butter cream filled chocolate covered Easter eggs
Pecan caramel patties
Life certainly is a bit different this year, and that difference will impact a lot of things…but it doesn't have to impact the spread of Easter joy. We hope that we can continue to provide smiles and small moments that remind us of all the best parts of life—until all of this is behind us again. In the meantime, stay well, friends.